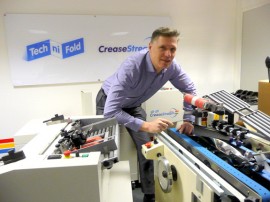 The print finisher who created a global brand – Graham Harris, managing director, Tech-ni-fold
There is good reason why Graham Harris is something of a poster boy for inventive entrepreneurs up and down the country. The idea he came up with during his lunch breaks working at a Leicester-based printer has gone global – the firm's Tri-Creaser is now available worldwide via a network of 96 distributors. 
Harris says he has always had "an inventive mind". "I was at work, and I was thinking about what was the biggest thing people struggle with in finishing, and it's cracking. There's often no time to send a job out for creasing.
"I thought that if I could create a device to improve it I could perhaps be a consultant. At the time I had two young kids and not a lot of money. I borrowed £2,000 from my sister and approached some engineers in my dinner break. I knew I needed to use rubber, it was just a question of how."
While Harris's wife was working at weekends, he'd be in the garage honing his ideas and enlisting his daughter and son to draw and measure things for him.
His eureka moment came when he was experimenting with rubber O-rings on a shaft, creating creases using a bed of rubber.
"I took the O-ring out and as I did so it flicked into a groove and protruded outward. My heart skipped a beat. I ran that into a channel and got a fantastic crease – the sort of crease I'd only ever seen produced on a platen cylinder before," he recalls.
The rest, as they say, is history. Tech-ni-fold's range now spans 400 different products including standalone devices such as desktop creasing machines.
But it wasn't all plain sailing. His then-boss said Harris "would only make pin money". And finding a suitable rubber compound proved tricky. "Initially the rubber wasn't hard-wearing enough. I spoke to a rubber specialist who took me under his wing and mixed up special rubbers. We got to 10,000, 20,000 and then 100,000 runs before it wore out. Now we're at 800,000 to a million."
Tenacity and something of a thick skin are an essential part of the inventor's armoury, says Harris.
"A normal, average person can do great things. But a lot of people fall at the first hurdle. They haven't got the durability," he states. "I got a lot of rejections in the beginning. You have to keep at it."
He's still having ideas and encouraging the Tech-ni-fold team to do likewise. The firm now employs nine staff at its Leicester base, and generates sales through distributorship channels.
And what of Harris' sister and her £2,000? "After I'd sold my first prototypes I was able to pay her back. I remember singing all the way home, and I gave her £500 extra."