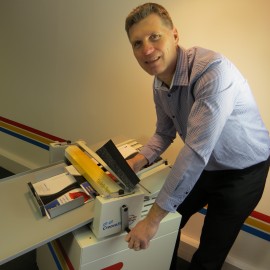 The lighter side of IPEX success…
No, our yellow creasing machine doesn't come with a monkey!
Despite attracting half the visitor numbers compared to 2010, IPEX played into our hands this time around, simply because the majority of visitors had time to get around the two halls and see everything, and we had something that caught their imagination. For many other small to medium sized exhibitors, who usually rely on the scraps left by the giants who couldn't or wouldn't attend, it was their time to shine too.
I can't speak for anyone else, but for us the show was a hit and looks set to be our most successful yet. Even though we marketed well, including personally registering our customers and prospects as VIP guests, we still needed to believe that people would pass by, but we needn't have worried. The organisers did a fantastic job in my opinion, Trevor Crawford and his team bent over backwards to support the exhibitors and give us the platform to work from. I am a great believer in teamwork, and just as the organisers did their bit, it was also up to us, the exhibitors, to give visitors a good reason to spend time with us and to make their entry ticket worth paying for – I believe that team CreaseStream did this with a passion.
The lady in the group began to giggle through my demonstration
On the lighter side, we had a lot of fun at IPEX, and there is one story that stands out for me. We have two creasing & perforating machines that have a rotary handle that drives stock through the shafts by turning a handle, and although I really do feel that my technical team and I are geniuses for coming up with such a clever idea, even if I do say so myself, we are often left speechless by the reaction it brings when people first see it. On the first morning of the show, with everything on our stand immaculately set up and prepared, our very first visitors, a group of four people advanced towards me, all showing some intrigue towards our "yellow machine with a handle, " the CreaseStream mini Quick-feed. Whilst I took up this opportunity to talk through the benefits a non electrical creasing unit could bring to a company who may want to output jobs at 3,000 or more per hour, the lady in the group began to giggle when I turned the handle. Her giggles turned to hysterics as I explained some of the features, and then the other three joined in, and I had nowhere to go. They couldn't get past the fact that the machine had a handle instead of a motor, and it all finished with two of the guys virtually picking the lady up from her knees. I tried to tell them that we had a motorised, non handle version, but the flow of tears down the lady's face should have told me something, like not to try and salvage some pride, it was a lost cause.
The same happened to me in Chicago at the Graph Expo show over a year ago, three Heidelberg top brass who I invited onto our stand laughed so heartily that I think it fed them all enough humour stories to last them for the rest of their lives. One of them asked if the yellow machine with the handle came with a monkey to turn it.  I'm not sure if it killed a good business opportunity, but at least they will remember us.
We often get asked the question about the monkey and it all adds to the fun, I even had a customer tell me that whilst showing his colleagues the unit on our website video, they laughed so hard that he nearly didn't buy it – he dropped by at IPEX to thank me for coming up with something so simple and so innovative, and to tell me that although there is still some comical element to their working day, they all love the machine and get all their creasing jobs sorted so fast and so accurately.
In keeping in the spirit of fun, we prepared this video for you, although it is extremely funny (well you judge for yourself) please don't let the comedy element take away the fact that the CreaseStream mini-series is becoming hugely successful.
Thank you for reading my blog
Graham Harris
Managing Director
Tech-ni-Fold Ltd