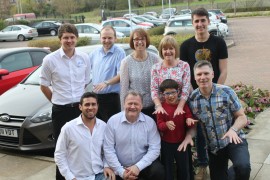 International relations within the CreaseStream family –
A member of the CreaseStream family came to stay recently, read on to find out who…
During the week after IPEX we had a couple of International guests here at CreaseStream HQ. They were the owner of CreaseStream Mexico Rodrigo Castellanos and his 5 year old son Nico. For them it was a combined trip, partly for Rodrigo to come to the office to discuss new developments within the business but also to give them the chance of a holiday. It was a great few days as a couple of us had never met Rodrigo and even more of us had never met his son!
When they were in the office the next steps that our partnership will take were discussed and it is safe to say our relationship has never been better. At the same time one of us was always keeping an eye on Nico, ensuring he was well entertained with a bit of handy-craft or some games and videos on a tablet! Away from the office we were able to try and help make it a memorable holiday for them both. There were visits to Cadbury's World, Tamworth Snow Dome and local restaurants (when in England you have to try fish and chips, right?) to name but a few of the activities.
What was genuinely nice was how close the two of them are. Having them both in the office made the "family" atmosphere that the rest of us work in and are surrounded by daily even more obvious. Here at CreaseStream we are an International family and Rodrigo is a committed part of that. He works hard to promote and sell our products and we work equally hard to support him as much as possible.
We believe in our products 100% and love to work with people, both National and International, who share our enthusiasm. We have a select network of people that we consider to be part of our extended International family and are always looking to increase that number. If you think that this could be an opportunity for you, email us at info@creasestream.com or call our office on +44 (0) 1455 554491.