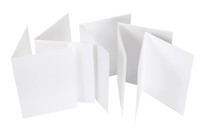 7 Tips for Printing and Folding Funeral Order of Service Cards Like a Pro –
Written by guest blogger Andre Palko of Tech-ni-Fold USA…
The first time a funeral director called us at the office, my mind immediately started racing, at first thinking it a wrong number, and a split second later thinking, "Oh no, who could it be?" Fortunately it was a business call, not to mention a sign of the changing times in the printing industry. The funeral home, it turns out, was having trouble finishing the order of service cards they produced in their office. He explained his frustrations to me. With today's changes in printing and copying technology, printing is no longer the province of skilled craftsmen. These days offices in all industries are producing high quality work that was unheard of only ten years ago.
His problems with printing the order of service cards could be divided in two parts: one part customer expectations and one part production problems.
As any funeral director will tell you, the expectations for a funeral service are always high, simply by nature of the circumstances. What grieving family wouldn't want only the best for their lost loved ones, regardless of their financial circumstances? Certainly in the cases of premium level funeral services, expectations are extremely high. Everything is under a microscope, including the funeral order of service cards. It would be a shame if the family focused on one preventable glitch that caused them to remember the whole funeral badly. So while expectations can be managed to a small extent, they will always be high. When you hand the family member their funeral program or memorial card, it must look good. You simply can't expect your client to be OK with second-rate results. The technical production problems were small but very important items that related to folding the printed order of service programs or memorial cards. These included:
Hand folding cards was inconsistent and gave a poor presentation, even on very expensive papers. It was often hard to get them to fold evenly and squarely. He felt uneasy when they had to present such cards to a client.
Printing was fast, but finishing was slow. They often scrambled to finish folding the cards between services.
Sometime the paper would crack or tear. This made the finished service cards even more unsightly, especially when the fold line went through a dark color or a photo.
When they substituted lighter paper to make folding easier, the cards didn't hold up well. Many family members expect to keep the service cards as a remembrance. Light weight papers tended to get crumpled or torn before the service was even over.
Light weight paper, while easier to fold, simply wasn't acceptable to some clients. These clients demanded durable, heavy stocks that would look good and last as keepsake items.
They often had to reprint part or all of a program because of finishing problems. Aside from the extra paper cost, the labor to re-work jobs was substantial, and there simply wasn't enough time to devote to re-working poor quality funeral cards. Eighty hour work weeks were bad enough when things went smoothly.
If like this funeral director, you print and finish your own order of service cards and programs in-house, there are some very simple things you can do (or avoid) to make your life easier and your business more profitable.
Buy good quality paper, especially if you are using recycled or cover weight (card) stocks. If you want to go cheap, make sure you test the paper first in your own copier or printer. Like anything else in business, cheap paper is cheap for a reason. Any you probably won't find out why until it's too late…or until you test.
Assign a staff member to learn your printing, copying and folding equipment from top to bottom, including the software. If it's a leased machine or an expensive purchase, you probably get some free training from the manufacturer. Use it. Modern copiers and printers often have remarkable capabilities but if you don't know about them, they do you no good. Some of these features might include:

Marginless printing. You can print to the edge of the sheet, or very close to it.
Automatic duplexing, in which the printer automatically prints both sides of a sheet. You probably can't do this on card stock but if you can do it on text weight stocks, it will make your booklet or pamphlet printing easier than ever.
Manual duplexing. This just means you have to feed the paper through the printer twice. But there is probably one way to do it for text papers and another way to do it for card stocks.
Printing on film, transparencies, labels and other specialty material. Modern office printers handle a surprising array of material, but it only works right if you follow directions.

If you plan to print and fold paper from 170gsm and up, you should invest in a good quality scoring machine. This is one of those little secrets that printers have to help them finish off a premium quality folded card. You'd never know this because all you see is a finished, folded piece. But this simple little task can make all the difference and might get rid of a lot of your printing frustrations. A good score could, in some cases, eliminate the need for machine folding altogether. If you send your printed cards out for folding, you might be able to eliminate that time-consuming step. Or if you do it all in-house on a small tabletop folder, hand folding small volumes of properly scored cards is a breeze. It can even be faster than folding on the tabletop machine.

If they are bigger quantities, a good score will make the folding results more consistent and accurate, especially if you find the folding machine to be a bit tricky to operate.
A score (also called a crease) will create a line in the paper where it will fold, neatly, squarely and without paper cracking or tearing on the outside or inside of the card. It will also make hand-folding MUCH faster.

If your client wants to use colored or textured paper, be sure you test it first! Colored papers can have unexpected results when combined with certain color inks. Textured papers are difficult to print, especially if you have complicated graphics or photos. It could look completely different from what you see on the computer monitor when designing the card.
Move up to a heavier sheet whenever ink shows through from one side of the sheet to another. It's also a good practice to keep an inventory on hand of your popular papers, in different weights. If you run into a last-minute problem, you can substitute a heavier sheet.
Print the correct side of the sheet first. Yes there are two distinct sides to every sheet of paper. One side should always be printed first, especially on high-end copiers or laser printers. It won't always cause a problem, but if you are having a curling problem or a strange printing issue, this could be a factor. Digital papers almost always indicate which side to print first. Other types may not tell you but you can test to see which works best or ask your paper supplier.
Always be sure you use the correct printer settings for the paper you are printing. It can make the difference between awful and great.
These seven basic printing and finishing tips should reduce much of the unexpected frustration that comes from doing your own printing. With a little experience and practice, you'll be doing it just like the pros!
Andre Palko
President, Technifold USA
After reading these tips do you need help deciding which CreaseStream Mini is right for you? If you do why not view our range of products and download our free comparison sheet: